Do you want to go to the beach but you're tired of the Spanish and Italian shores? Then I recommend heading over to France and enjoy its Riviera – Saint Tropez is one of my favorites over there!
I recommend staying in town for more than a day, this way you can discover the city while relaxing next to the ocean! If you are not sure of what can be done here, you can check out my list of Best things to do in Saint Tropez.
Now that you have decided to organize a vacation there, the next question is: where to stay in St. Tropez? Let me help you with your decision!
I have chosen some of the best hotels in St. Tropez and grouped them by type and price category for your convenience. All these hotels have great amenities and reviews, so you will definitely enjoy your stay there.
Here are my recommendations:
When you want to select accommodation, there are many factors that come into place, starting with your preferences. Would you like to book a room, the whole apartment, or maybe you're interested in an all-inclusive resort? Regardless of your choice, you will find some great recommendations here!
By the way, most people arrive to St. Tropez by car – and that's what I recommend as well! If you want to find out about the other options of getting to Saint Tropez from other big cities in the South of France (Nice, Marseilles and Cannes), I recommend checking out my article about St. Tropez!
Below I have selected the best hotels which I know you will love! They are divided by price range so you can find the one that fits your budget best:
Best St. Tropez hotels on the beach
The beautiful St. Tropez beaches have different hotels that give a front-row seat to the oceans' magic but also some restaurants, casinos, and bars where you can stop at if you have booked your stay someplace else! If you want to get more out of your Saint-Tropez visit than just enjoying the beaches, I recommend checking out the local nightlife!
The city is known for its glamour, celebrities, parties, and stunning scenery. And to match this idea, I want to share with you the best hotels to stay in right on the beach!
The French Riviera has been the perfect destination for the rich and famous since 1850. Does this mean I could see some celebrities?, you may ask. Yes! From Bono, Beyoncé, Jay-Z, or Nichole Scherzinger, there is a high chance you will bump into your favorite star during a night out or in one of St. Tropez's best resorts!
Below you can find my handpicked recommendations on best St. Tropez hotels with direct beach access:
Best Apartments/Villas in St. Tropez
I have previously mentioned some options for hotels, grouped by price to make your choice easier. But, sometimes, as guests, we want to feel at home while on vacation, so apartments and villas can be your perfect solution! Plus, apartments and villas are actually cheaper than hotels for this destination!
By booking a stay in these accommodations you can expect to get great service as if you were in a hotel, while also having the freedom of using the apartment amenities!
Let me share some of the best St. Tropez apartments and villas options with you: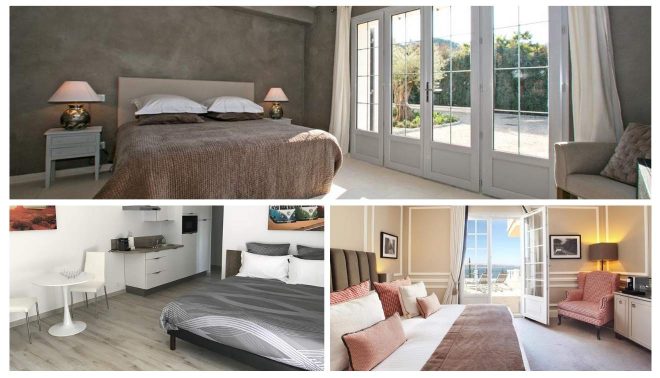 Best Hotels for families in St. Tropez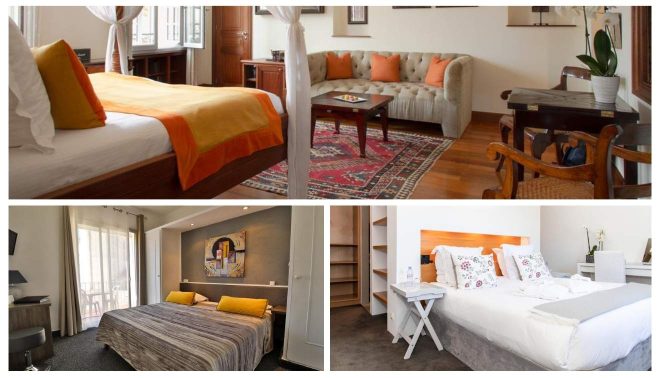 With a diversity of options, I had to handpick some St. Tropez hotels that will offer the perfect stay for family trips as well!
When choosing the perfect accommodation for your family, it's best to go for a hotel next to the beach, so everyone can enjoy the sand and the ocean. Here are my fabulous and spacious recommendations for families traveling to St. Tropez:
Hotel Pan Dei Palais – This is among the best luxury options where you can enjoy the St. Tropez beaches! This hotel has an oriental-palace décor and on the outside has a pool-side summer bar right next to the outdoor swimming pool. All of their suites or smaller rooms are super cozy and they even have a city or pool view for you to enjoy!
Hotel le Mandala – Choose this middle-priced accommodation if you want to feel at home when traveling with your entire family. There are bedroom options for all tastes and they all have elegant decoration for you to feel like royalty next to the beaches! The new and modern furniture, as well as the décor will make you think you are being part of a fairy tale!
Hôtel le Chardon Bleu – Which hotels in Saint-Tropez are good for families? This is your best budget option and it is also part of the cheap hotels in Saint Tropez! In terms of family comfort, the rooms are at an affordable price with air conditioning and a balcony. The rooms are spacious and there are also many activities nearby such as sailing, diving, fishing, and canoeing!
---
Type in your dates below to find the best rates:
---
Conclusion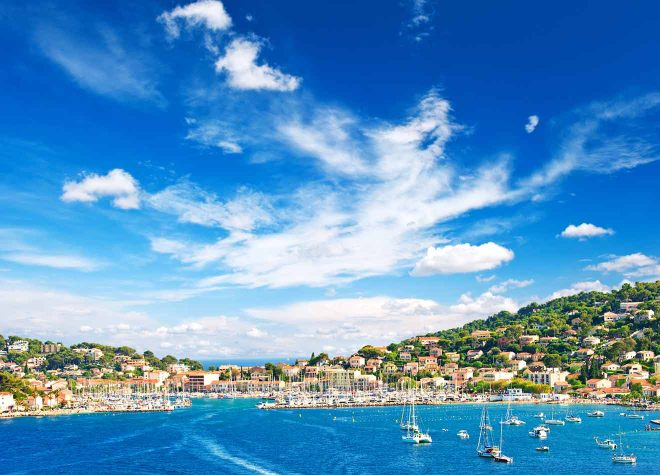 This was my complete list of hotels, apartments, and villas in St.Tropez! All the hotels I mentioned in this article have the best reviews, gorgeous décor, and all the amenities you might need during your stay!
PRO TIP: if you are going to stay in a high class or middle priced hotel and you are not arriving there by car, ask them about the transportation options in advance, they usually have the transfer from the city included.
I hope that this post helped you if you were wondering where to stay and what to choose from all the different St. Tropez hotels.
Again, if you want to find out more about all the things that you can do in St. Tropez other than sunbathing, please check out my article about 7 Things to do in St. Tropez, France.
As always, if you want to share a question or suggestion, you can tell me in the comments below! 🙂 I'll be more than glad to answer!
I wish you a great vacation in St. Tropez!
Yulia
Sorry! The Author has not filled his profile.